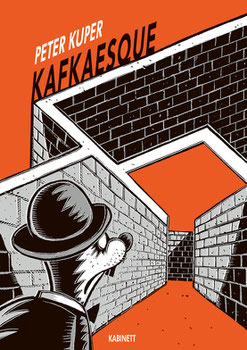 PETER KUPER 
KAFKAESQUE
Heft #47
Mai bis August 2021
Peter Kuper interpretiert in  beklemmenden schwarz-weiss Bildern zwei von Kafkas Geschichten: die zwanghafte Auswegslosigkeit der Maus in Kafkas Erzählung "Kleine Fabel" und das soziale Scheitern der Hungerkünstlerin in der gleichnamigen Geschichte. Von vermeintlicher Weite und Grenzenlosigkeit verengen sich klaustrophobisch Mauern und Gitterstäbe ...

Der 1958 in New Jersey geborene Comiczeichner Peter Kuper veröffentlicht seit Anfang der 1980iger Jahre regelmäßig im "The New Yorker", "The Nation" und "MAD".  Hierzulande ist er vielen durch die "Spy vs. Spy" im MAD-Magazin bekannt, die er 1997 übernahm. Er ist Mitbegründer und Herausgeber von "World-War 3 Illustrated" und hat für seine Werke  den renommierten "Eisner Award" und  den "Rueben Award" erhalten. Peter Kuper veröffentlichte viele Bücher bei amerikanischen Verlagen und seine Werke erschienen in Übersetzungen in zahlreichen anderen Ländern.

Peter Kuper interprets two of Kafka's stories in oppressive black and white pictures: the obsessive hopelessness of the mouse in Kafka's story "Little Fable" and the social failure of the hunger artist in the story of the same name. Walls and bars narrow claustrophobically from supposed boundlessness ...

Peter Kuper's work appears regularly in The New Yorker, The Nation, and MAD, where he has written and illustrated "Spy vs. Spy" every issue since 1997. He is the co-founder of "World War 3 Illustrated", a political comics magazine now in its 41st year of publication. He has produced over two dozen books including Sticks and Stones (winner of The Society of Illustrators gold medal), The System, Diario de Oaxaca, Ruins (winner of the 2016 Eisner Award) and adaptations of many of Franz Kafka's works into comics including The Metamorphosis. His most recent graphic novels include Kafkaesque (winner of the 2018 Rueben award) and an adaptation of Joseph Conrad's Heart of Darkness.Translations of his work have appeared in Greece, Italy, France, Spain, Slovenia, China, Brazil, Germany and Mexico.
https://www.peterkuper.com/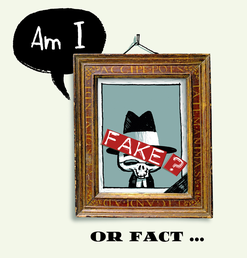 REPRISE
"FAKE or FAKT"

März bis April 2021
 Ab Anfang März zeigt das KABINETT eine Ausstellung zum brandaktuellen Thema "Fact or Fake?". Das KABINETT macht sich Gedanken über das Zeitalter der alternativen Wahrheiten. Außerdem im Comicautomat der KABINETTpassage während der gesamten Ausstellungsdauer erhältlich: eine Auswahl noch erhältlicher KABINETThefte.
From the beginning of March KABINETT will show an exhibition on the hot topic "Fact or Fake?". The KABINETT operators Sibylle Vogel and Thomas Kriebaum  take a look at the Age of Alternative Truths. Available during the exhibition time in our vending machine: a selection of still available KABINETT booklets.